Product was successfully added to your shopping cart.
Details
HP K6A93AA 1TB External Portable USB 3.0 Hard Drive Overview
Here is a mega storage option to keep your files, photos, videos, and music in one place to use and enjoy whenever you want. HP 1 TB External Hard Drive is made of aluminium and as such quite light and compact in shape. It offers 1 TB storage capacity with 5400 rpm drive speed. Ideal for operations with Windows OS, this device is USB compatible. Simple to use, one does not have anything to learn or undertake any elaborate installation process. It will become your constant companion wherever you go. It has a 12-month warranty.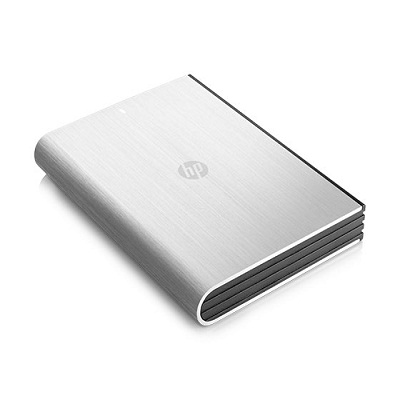 Memory storage capacity
HP 1 TB External Hard Drive is capable of handling both large and small files with equal aplomb. With 1 terabyte capacity, you can store 1 trillion bytes secure music, documents, photos, videos, and more on this device.
Design
HP 1 TB External Hard Drive has a compact design that makes it ideal for carrying around.It works as the library for your multimedia and other items for easy access. It does not involve complicated software installation with inbuilt backup SimpleSave software. Ideal for both work and personal use, this will turn into an essential part of your daily life. It backs up the file default extensions automatically every 5 min. Users may exclude or include any additional extension of files.
USB Port
This external portable hard drive from HPconnects easily with USB 3.0 and 2.0 ports. Enjoy effective plug-and-play performance. It is also backward compatible to USB 2.0 with power from USB cable.
Supportive Formats
HP 1 TB External Hard Drive is compatible with all devices that use the Windows operating system. However, the whole range of associated features might not be available with different versions and editions of Windows. System upgrades might be a requirement with separate purchase of drivers, software, and hardware. In this way, the users will be benefited from Windows functionality.
HP K6A93AA 1TB External Portable USB 3.0 Hard Drive Specification
Drive Speed
Drive Speed
5400 RPM
Storage Capacity
Storage Capacity
1TB
Additional Information
| | |
| --- | --- |
| Name | HP K6A93AA 1TB External Portable USB 3.0 Hard Drive |
| Technical specs | No |
| Model Number | K6A93AA |
| Weight | 0.2000 |
| Brand | HP |
| Product Category | No |
| Platform | No |
| Apple Accessories | No |
| Warranty | N/A |
Be the first to review this product