Product was successfully added to your shopping cart.
Details
Music is melodious and sweet when it is clear and distortion free. Therefore, if you wish to listen to your favourite music loud and clear, you must take a look at the Sony MHC-V6D Hi-Fi System today. It brings to you audio of high quality that is clear and amplified. Redefine your experience of listening to the music of your choice with this Hi-Fi system that supports formats like DVDs, CDs, etc. as it comes with a convenient player that has a disc tray. This Sony music system has high-quality features that will give you impeccable sound. With Dolby digital and surround quality sound you will feel like you are in at music concert.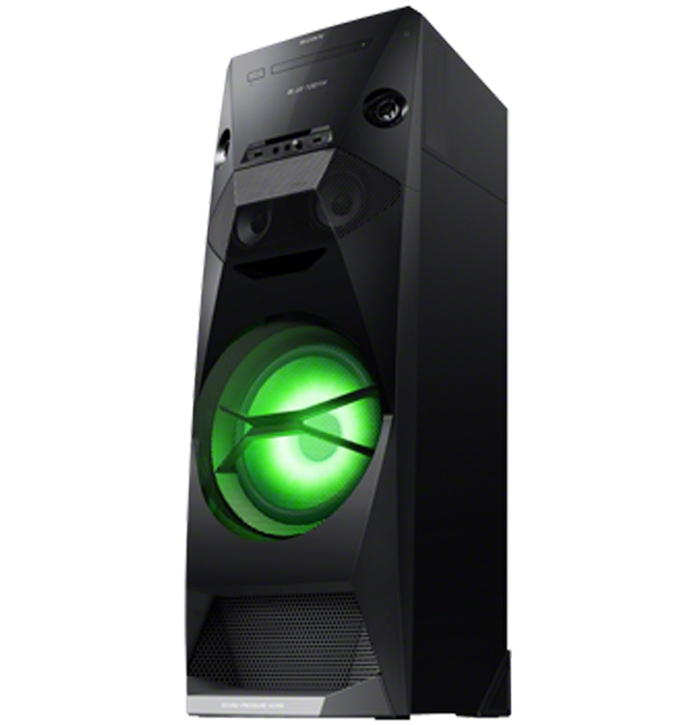 Design
This Sony Hi-Fi system sports a compact and sleek design and comes in a shade of polished black. It has the ability to fit into small places and it adds to the decor of any home. This music system will increase more than just the volume of the music that you are listening to. With its brilliant performance and classy looks it will raise the beauty and ambience of your home by several notches. It has a neat design, does not take up much space and it is also sturdy enough for you to use it for years to come. The subtle design of this music system makes a stylish statement. The weight of this Sony MHC-V6D Hi-Fi System is approximately 18 kg and the dimension of this home theatre system is 33.9 × 32.5 x 90.8 cm. The system also has LED lights, which simply adds to the look.
Connectivity
The Sony MHC-V6D Hi-Fi System is compatible with Bluetooth. Therefore, you can connect various devices to the system wirelessly and enjoy great music, anytime. The other connectivity options include USB ports.
Sound Quality
The sound quality of this Hi-Fi system by Sony is exquisite. The PMPO of this system is 15840 W and the RMS is 1440 W. The system also uses a BASS BAZUCA feature, which gives you brilliant bass.
Technical Features
The Sony MHC-V6D Hi-Fi System also has a Karaoke function that helps you sing to your favourite songs. The power consumption of the system on Standby mode is a mere 0.5 W. The power required by the Hi-Fi system is AC 120 V-240 V, 50/60 Hz. It has 20 pre-set FM channels and 10 pre-set AM channels. The Hi-Fi system is compatible with formats like MP3, CD, DVD, CD-R, Xvid, J-PEG, and many more.
Inside the Box
The Hi-Fi system package contains the main unit, speaker front panel, remote control, batteries, speaker cabinet and operating instructions.
WARRANTY

Period

1 Year Warranty
General Features

Series/Category

FSX Series/HOME AUDIO SYSTEM

Power Requirement

AC120V-240V, 50/60Hz
Amplifier

Model Number

MHC-V6D

PMPO Total

15840W

RMS Total

1440W

CD

Yes

DVD

Yes

USB1

Yes

USB2

Yes

FM

Yes

AM

Yes

Audio In1

Yes

bluetooth

Yes(iAP over BT)

Analog Audio Input(s)

1

Analog Audio Output(s)

1

Composite Video Output(s)

1

USB Port(s)

2

Microphone Input(s)

2

Equalizer

MUSIC (R AND B/POP/ROCK/SALSA/AFRO POP/BONGO/RHUMBA/GOSPEL/GENGE/FLAT/CUSTOM) MOVIE/GAME(MOVIE, DRAMA/NEWS, GAME) FOOTBALL

Bass Boost Function

BASS BAZUCA

Sound Enhancement

DSEE

Party chain

Yes

Dolby Digital

Yes

Surround

Yes

Flanger

Yes

Isolator

Yes

Pan

Yes

Wah

Yes

Power Illuminator (color)

Multi color

LED EFFECT

LED COLOR/PATTERN

Illuminated keys

BASS BAZUCA/BLUETOOTH/DJ EFFECT KEYS

Karaoke-PON

Yes

Key control

Yes

Scoring

Yes

Mic Volume

Yes

Echo

Yes

DEMO Mode

Yes

Timer Play

CD/USB/Tuner

Timer REC (source)

TUNER

Timer Sleep

CD/USB/Tuner

Clock Display

Yes

Power Consumption (in Standby)

0.5W

Display Type (Main display)

1 Line FL

GUI Language (Main display)

English

GUI Language (On-Screen Display)

ENGLISH,CHINESE1,CHINESE2,THAI

Initial Setting Language (On-Screen Display)

English

Aspect Ratio

16:9/4:3(LETTER BOX)/4:3(PANSCAN)

Aspect ratio; Initial Setting

16:9
Wireless Connection

Bluetooth connection

Yes

AAC

Yes

A2DP(SINK)

Yes

AVRCP

Yes

SPP

Yes

Apps

Yes (SongPal)
Tuner

Band

FM/AM

RDS

Yes

External Antenna

Yes(75 ohm)

Tuning Range (FM)

87.5-108MHz/50KHz

Tuning Range (AM)

531kHz-1602kHz/9kHz step (initial setting) 530kHz-1610kHz/10kHz step

Preset Channel

FM20 / AM10
DVD / SA-CD /VCD / CD Player

Tray Type

1 Disc Tray

Tray Lock

Yes

Child Lock

Yes

CD

Yes

CD-R

Yes

CD-RW

Yes

8cm Disc (CD)

Yes

8cm Disc (DVD)

Yes

DVD

Yes

DVD+R

Yes

DVD-R

Yes

DVD+R DL

Yes

DVD+RW

Yes

DVD-RW (Video)

Yes

VCD

Yes

MP3

Yes

Xvid

Yes

Mpeg4 (Simple Profile)

Yes

J-PEG

Yes

Play Mode(s)

Normal/Shuffle/Program/Repeat

Resume

Yes

MP3 File name

Yes

ID3Tag Ver. 1.1

Yes

ID3Tag Ver. 2.0

Yes

Color System Format; Initial Setting

NTSC/PAL; NTSC

Audio

44.1kHz/24bit
USB Port(s)

MP3 Encording Bit Rates

128k/256k

Maximum Folders

1000

Maximum Tracks

3000

Indicator Type

Yes

Walkman

Yes

MP3

Yes

WMA

Yes

AAC

Yes

Xvid

Yes

MPEG4 (simple profile)

Yes

JPEG

Yes

Play Mode(s)

Normal(ALL USB/1 USB/1 FOLDER)/Shuffle(ALL USB/1 USB/1 FOLDER)/Program/Repeat

Resume

Yes

Recording Mode(s)

Normal (1 DISC / 1 FOLDER)/Program/REC 1 (1 Track)

MP3 File name

Yes

ID3Tag Ver. 1.1

Yes

ID3Tag Ver. 2.0

Yes

CD

x3

MP3CD

x20(MAX)

TUNER

x1

Audio Line IN (Analog)

x1

USB

x20

Erase

Yes

Charge

5V/500mA
Front Speaker

System

3-way

Rated Impedance

5 Ohms

Sound pressure horn(BLH)

Yes

Tweeter Unit Size

4cm x 2

Mid Unit Size

10cm x2

Woofer Unit Size

25cm x 1(BLH, Mica)
Other Information

LED Speaker

Yes (Multi color LED for 25cm unit)

Carrying Handle

Yes
Remote Commander

Model Number

RM-AMP123

Battery Size

AA

Battery Type

Manganese
General

Speaker Front Panel

Black

Speaker Grille

Black

Main Unit

Black

Remote Commander

Black

Speaker Cabinet

Black

Antenna(s)

Yes

Battery (Size/Type)

Yes (AA/Manganese)

Remote Control

Yes

Operating Instructions

Yes
Weight and Measurements

Dimensions (WxHxDcm)(Approx.)

33.9X90.8X32.5

Weight (kg)(Approx.)

18
Additional Information
| | |
| --- | --- |
| Name | Sony MHC-V6D Mini Hi-Fi System |
| Technical specs | No |
| Model Number | MHC-V6D |
| Weight | 8.0000 |
| Brand | Sony |
| Product Category | Mini Hi-Fi System |
| Platform | No |
Be the first to review this product