Product was successfully added to your shopping cart.
Details
Overview
Tally.ERP 9 is India's most popular business software - driving the growth of over a million businesses for more than two decades. Developed using proprietary, indigenous technology, it is a true "Made in India" product - to handle diverse and complex business conditions - in a Simple way!! A complete, fully-integrated, plug and play business management software that handles all critical business needs, including:
- Accounting, Finance management - Including Balance Sheet, P&L, Ratio Analysis

- Banking

- Inventory management

- Sales & Purchases Management - Order management and invoicing

- Statutory compliance (VAT, Service Tax, Excise, TDS)

- Vendor Management - Business information, outstanding and credit management

- Payroll Management - employee profile, pay structure, attendance, reports and statutory

- Manufacturing and Job Work

- Data Security and Audit

- Data exchange and other business capabilities
Key Features
What makes the Tally ERP 9 Silver so unique and popular is its interface and ease of access. It has enhanced functions that will save you time without having to compromise on the quality of the results. This software is a single user edition and is valid for lifetime once the activation is done.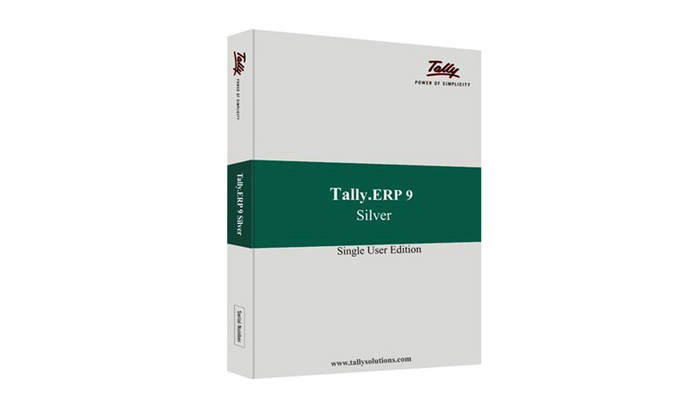 System Requirements
To ensure proper installation and functioning of this software, your computer's processor must be Intel Pentium IV Processor with 1.7-3.0 GHz or Dual Core Processor with 1.86-3.2 GHz, Core2 Duo Processor 1.86-3.6 GHz; however the higher the configuration, the better the results. For optimum performance, your operating system must be 64-bit editions of Microsoft XP/Server 2003/Vista/Server 2008/Windows 7/Windows 8/Windows 8.1/Windows 10/Server 2012 for 64 bit or Windows 98/2000/ME/XP/Server 2003/Vista/Server 2008/Windows 7/Windows 8/Windows 8.1/Windows 10/Server 2012 for 32 bit.
Hardware Requirements
For optimum performance, it is important to ensure that you have a RAM of 1 GB on your system. However this is the minimum requirement because higher configuration leads to better performance.
GENERAL
Edition
Tally.ERP 9
Licenses
1
Brand
Tally
Architecture
32 bit
Model Name
Silver
SYSTEM REQUIREMENTS
Processor
Intel Pentium IV Processor with 1.7-3.0 GHz, Dual Core Processor with 1.86-3.2 GHz, Core2 Duo Processor 1.86-3.6 GHz is the minimum recommended processor
Hard Drive
150 MB Free Space to install the application (Excluding Data).
Operating System
64-bit editions of Microsoft XP/Server 2003/Vista/Server 2008/Windows 7/Windows 8/Windows 8.1/Windows 10/Server 2012 for 64 bit, Windows 98/2000/ME/XP/Server 2003/Vista/Server 2008/Windows 7/Windows 8/Windows 8.1/Windows 10/Server 2012 for 32 bit
Memory
1 GB or more for 32bit
Additional Information
| | |
| --- | --- |
| Name | Tally ERP 9 - GST Ready |
| Technical specs | No |
| Model Number | PCL808447099 |
| Weight | 0.4000 |
| Brand | Microsoft |
| Product Category | Computer Accessories Combos |
| Platform | PC |
Be the first to review this product